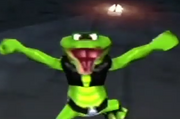 Kritters
are
Kremlings
featured as enemies in the
Donkey Kong
series.
This page has been marked with IR and thus is a stub.
Get him out of here by expanding the page.
Physical appearance
Edit
In Donkey Kong 64, they appear with bright green skin and wear leather vests with a skull-and-crossbones emblem on the back, and a belt with a skull-and-crossbones belt buckle.
Video appearances
Edit
Ssenmodnar 3's character list confirms that a Kritter may appear in the video as a cameo seen in the background.