Overview
Mario
Mario in Super Mario 64.
Vital statistics

Position

Plumber

Age

26 (Nintendo & HassanLechkar canon)
Varies; mentioned ages include 30, 31, 32, and 86 (SMG4 canon)

Status

Alive, despite having died several times — this is possible through clones, though other reasons can be negative continuity and extra lives

Nickname(s)

Mario Sexy the Plumber
Mario Gaywalker
Physical attributes

Height

5"1

Weight

Over 100kg (SMG4 canon)
Mario
(also known as
Mario Mario
,
Mario Sexy the Plumber
, and/or
Mario Gaywalker
) is a plumber wearing a red shirt and cap and blue overalls. He serves as the main mascot of Nintendo, and he has a brother named
Luigi
. He is one of the main characters in
HassanLechkar
's bloopers.
Personality
Edit
In the official Mario games, he acts nice and helps anyone who needs his help, especially Peach.
His HassanLechkar universe version has a similar behavior to his version in the
Mario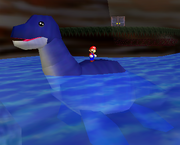 games.
He is dumb, is addicted to spaghetti and is retarded in the SMG4 universe, also being a major bother to everyone in Peach's Castle. The HassanLechkar universe however has a counterpart to this named IR.
Appearances
Edit
Mario's full name is given as "Mario Mario" in the Super Mario Bros. movie (this has leaked into other media; for instance, the Prima Games guide book for Mario Party 2 lists his name as "Mario Mario"). However, in SMG4's bloopers, it is "Mario Sexy the Plumber" instead.
External links
Edit